---
When searching for that perfect new vehicle for your commutes, you'll want to make sure you know what you want, as well as make sure it's the right time for you to buy. No matter if you're frustrated with poor dealership experiences or just don't know where to begin, many car shoppers find themselves soured by the experience when they finally drive off the lot. With City Cadillac, you're in good hands. Our team has a few car buying tips and tricks on how and when to buy a new car to share, so you can find the model that's right for you. Learn more about car-buying with us today and you'll be one step closer to driving off in a new Cadillac.
When to Buy a New Car
Buying a new car is a big deal, that's why the best place to start is simply knowing whether it's time to buy a new car. Here's how you'll know it's time to take that leap:
You constantly find yourself paying for expensive repairs, impacting both your wallet and your time. At some point, you'll be paying more for repairs in a year than you would for a new car.
You've felt unsafe driving your car. Need we say more? The last thing you want is to get in an accident, so if you've ever questioned your car's safety, it's time to say farewell.
Perhaps you were a bachelor/bachelorette when you first bought your car, but now you find yourself married with a baby on the way! You may want to consider upgrading to a small SUV with advanced safety features.
Is your car failing emissions tests? Getting it up to snuff can be costly, and opting for a newer model may save you money in the long run.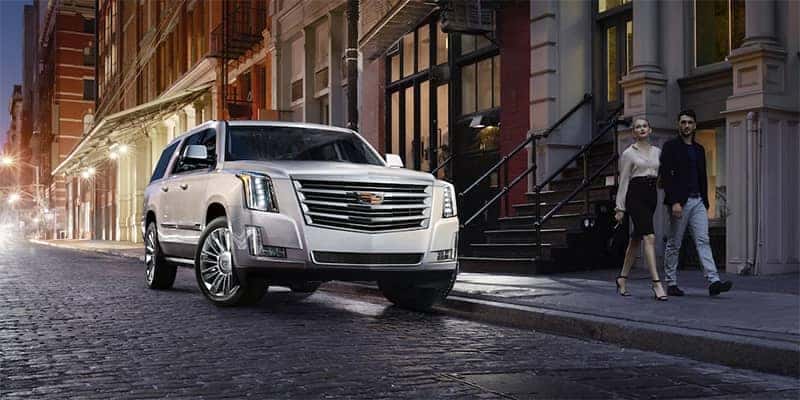 How to Find Your Ideal New Car
Once you decide on the right time to buy a new car, start by setting a budget and stick to it. If you're unsure what a reasonable budget would be, or if you're looking to trade in your current vehicle to help you save more and want to know how much it's worth, contact our finance team. You can also use our online Value Your Trade tool. After you've chosen the right budget, see our step-by-step guide on what comes next:
Narrow your search. Consider your driving habits, cargo space requirements, and desired technology and safety features, then start searching for models that meet your needs.
Pick your top three models, then research your top choices' safety ratings, reliability, lifespan, etc. If you have the time, take a test drive in each model to learn how they handle on local streets.
When you've decided on a final choice, do a local search to see your dealership options and request price quotes, and be sure to research what other shoppers have paid.
Take into consideration any big upcoming sale weekends or holidays that might come with really good deals, like Black Friday or Presidents Day.
Once you've completed the above process, it's time to head to your dealership of choice to make it official!
Discover Your New Car at City Cadillac!
With such a vast inventory of new models, drivers can easily find a model that works best for their driving needs and budget. In addition to our models, our dealership offers new vehicle specials to help with additional savings! Learn more about our models, savings, and more when you make the trip to City Cadillac for a test drive today! Have any questions? Whether you want to know the average interest rate for a new car loan or how to get the best deal on a used car, we can help. Don't hesitate to reach out to our team.