What's New for Cadillac Super Cruise in 2021?

Even after 115 years of leading luxury car brands, Cadillac is still looking toward the future. Designed for ease and simplicity, the Cadillac hands free driving technology – called Cadillac Super Cruise – will place hassle literally out of reach. For Astoria drivers, Cadillac Super Cruise is the first true hands free driving assistance feature for compatible Great Neck highways.
With over 5 million miles driven by Cadillac Super Cruise, the hands free driving technology utilizes Adaptive Cruise Control to maintain a selected following gap between you and the vehicle ahead. Cameras and sensors work to maintain the gap, as well as lane centering to keep your Cadillac in control. Cadillac will soon be rolling out an updated version of Super Cruise, which you can learn more about with us, right here!
Find Out What's Next for Cadillac Super Cruise
Coming soon on 2021 Cadillac CT5 and CT4 models are some exciting updates to the Cadillac Super Cruise technology! Brooklyn drivers can look forward to even more safety and convenience with the addition of automated lane change functionality. Learn more about this highly anticipated addition, below:
Cadillac Super Cruise with Lane Change On Demand: With Super Cruise engaged, drivers will enjoy the ability to either tap or fully latch the turn signal to indicate that they want to change lanes. When the indication is made, the system will assess the road in search of a safe opportunity to switch to the lane that was asked for. The system even uses the appropriate amount of time to tell other Brooklyn drivers that your car is about to make a lane change!
How do you know if the request to change lanes was received? Cadillac Super Cruise displays a message on the gauge cluster telling you so. The message will read as "looking for an opening."
According to Mario Maiorana, Super Cruise chief engineer, improvements have been made to Super Cruise software and hardware to ensure the safe functioning of the automated lane change ability. "This included improving rear-facing sensors and advanced software algorithms so that the system can confidently track vehicles approaching from the rear. As a result of these improvements, we are able to ensure that Super Cruise will hold in its current lane and only change when a sufficient gap exists," said Maiorana.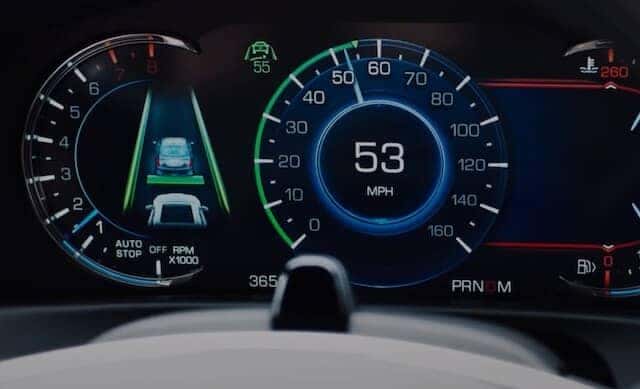 How Does Cadillac Super Cruise Work?
With a perceptive driver, Cadillac Super Cruise turns dreaded commutes into exciting journeys approached with a new sense of anticipation, while making long road trips comfortable and convenient. Using Adaptive Cruise Control to control acceleration and braking, Cadillac Super Cruise uses services such as OnStar®, GPS, in-vehicle cameras, and radar sensors to manage lane centering. Cadillac drivers can utilize Super Cruise with three easy steps:
Press "Adaptive Cruise Control (ACC)" button on the steering wheel.
When the Super Cruise requirements are met (compatible highway, GPS availability, alert driver), the ACC symbol will turn white.
When it is safe to do so, press the Super Cruise button on the steering wheel. The light will be green. To disengage, press the Super Cruise button again, or the brake pedal.
With Super Cruise-enabled Cadillacs, Astoria drivers receive three years of complimentary OnStar® functionality.
Discover the Innovation of Cadillac at City Cadillac
Experience Cadillac Super Cruise and other innovations at City Cadillac! Contact us to set up a test drive in Long Island City. Visit our website to learn more about the Cadillac family with our Cadillac model research and don't miss out on our latest offers and incentives. We look forward to helping you experience the latest technology Cadillac Super Cruise has to offer!