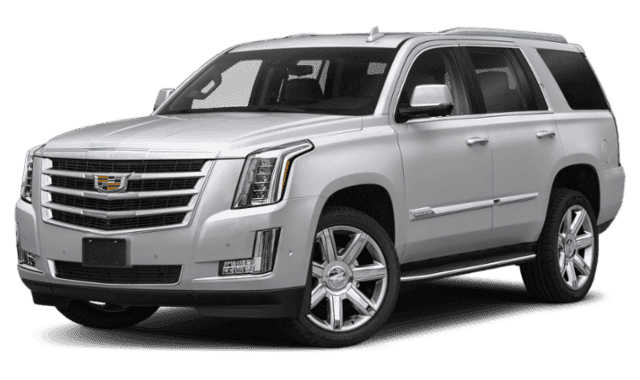 Cadillac Escalade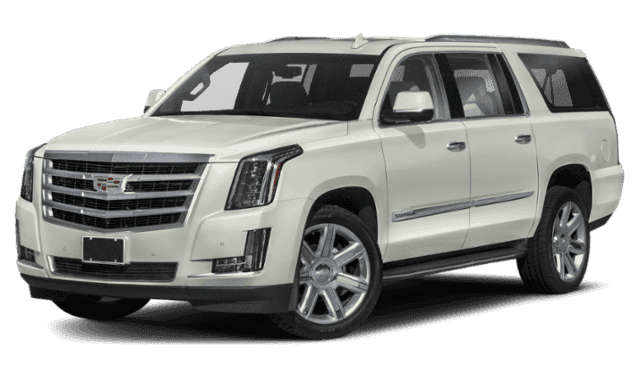 Cadillac Escalade ESV
The Cadillac Escalade vs. Escalade ESV
---
Long Island City drivers turn to the Cadillac Escalade for the highest standards in large, luxury SUVs. But how does it stack up against the version with the larger wheelbase, the Escalade ESV? Explore how each vehicle fares in a face-off from City Cadillac.
Escalade vs Escalade ESV: Dimensions
Astoria car buyers may have their eye on the ESV for its larger dimensions. Let's break them down.
The Escalade is 203.9 inches in length andhas a 116-inch wheelbase.
The Escalade ESV is 224.3 inches in length, with a 130-inch wheelbase.
While the legroom and the headroom on the Escalade is comparable to the ESV (the latter has .7 inches more headroom in the back), it's in the cargo space that a real difference begins to occur. At 39.3 cubic feet, the ESV's cargo volume more than doubles the Escalade's 15.2 cubic feet. Those wanting a vehicle to move voluminous cargo around Brooklyn should take note.
It's important to note that the Escalade and the Escalade ESV come in 4 different trims. Great Neck drivers who want their vehicle decked-out in tech and safety features or the most opulent interiors can upgrade from Standard to Luxury to Premium Luxury to Platinum.
Escalade vs. Escalade ESV: Towing and Payload
Both the Escalade and the Escalade ESV come with a buffed-up 6.2-liter V8 engine, which results in 420 horsepower and 460 pound-feet of torque when paired with a 10-speed transmission. As you can imagine, that engine carries plenty of weight. But your choice of Escalade may depend on what you want to move from A to B in Great Neck with it, and how much space your cargo will fill. Below are the weights both of these sizable SUVs can handle.
The Escalade can max out at a payload of 1,420 lbs.
The Escalade ESV has greater cargo volume, but a max payload of 1,390 pounds.
The Escalade's towing capacity is a whopping 8,100 pounds.
The Escalade ESV has a towing capacity of 7,900 pounds. 
See the Match-Up of the Escalade vs. Escalade ESV at City Cadillac
Whether you are looking for a standard Escalade or for an extended wheelbase, City Cadillac has Long Island City and Astoria drivers covered. There's plenty you can do to explore your Cadillac options from home. Compare prices, look at Escalade lease specials, and even go to the finance center's web page to see what sort of payment plans are possible. And feel free to contact us and stop by. We also have details on the 2021 Escalade.
More From City Cadillac
The 2021 Cadillac Escalade is revolutionary from its futuristic tech to its distinguished design. This SUV continues to impress many Astoria drivers with its towing capacity and features! So what is the 2021 Escalade towing capacity exactly? On 2WD (2-wheel-drive) models, the Cadillac Escalade can tow up to a maximum of 8,200 pounds. If…

Drivers all around Astoria know that Cadillac Escalade is a major head-turner on the open road, but what's inside the cabin? The 2021 Cadillac Escalade interior combines a spacious design with high-tech luxuries that make every drive a total joy. Get a sneak peek into the Escalade interior with City Cadillac, and get to know this…

If you're dreaming of taking your Long Island City commute to the next level, you should explore the 2021 Cadillac XT4 interior. It offers a host of premium features to keep you comfortable and connected, even on those long drives to Astoria. The Cadillac XT4 interior provides everything you would expect from a luxury vehicle and much…