Introducing the 2021 Cadillac Escalade

The newest generation of the Cadillac Escalade has arrived. Combining luxury with cutting edge technology, the 2021 Cadillac Escalade will deliver Astoria drivers in style. Improvements to the new Cadillac Escalade include third row seating, the first curved OLED monitor and Super Cruise. Read below to become acquainted with the new features of the 2021 Cadillac Escalade.
2021 Cadillac Escalade: Performance
Great Neck drivers will have two engines to choose from in the all-new 2021 Cadillac Escalade: a 420-horsepower 6.2L V-8 or a 277-hp 3.0L turbodiesel inline-6. A 10-speed automatic transmission is available with either engine option as well as four wheel drive. And the 2021 Cadillac Escalade is introducing a four-corner air suspension system that can raise or lower the luxury SUV by up to four inches. But the real game changers are yet to come.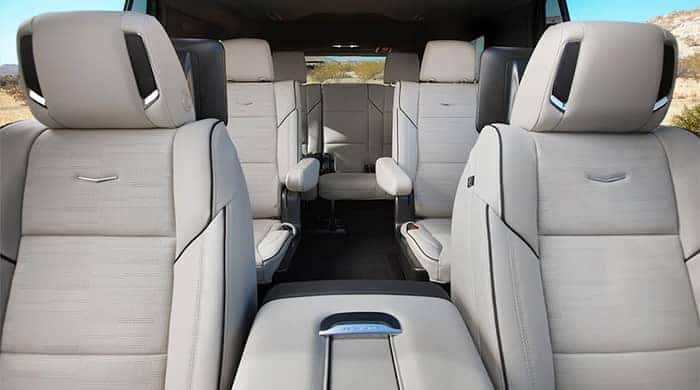 2021 Cadillac Escalade: Style and Technology
The interior of the new Cadillac Escalade will dazzle Brooklyn drivers with the inception of the industry's first curved OLED screen, spanning 38 inches of diagonal display, that includes a 14.2-inch digital gauge cluster and a 16.9-inch touchscreen infotainment system. It will be wrapped in leather housing.
The latest installment of the Cadillac Escalade also includes Super Cruise, the first hands-free driver assist feature for highways, adding ease to Long Island City driving. The 2021 Cadillac Escalade provides both driver and passengers with professional studio sound thanks to the AKG Studio Reference sound system, exclusive to Cadillac.
Experience the 2021 Cadillac Escalade at City Cadillac!
Be the first to experience the 2021 Cadillac Escalade at City Cadillac! Contact us to set up a test drive. You can also lean more about the Cadillac family like the Cadillac XT6, how Cadillac stacks up against its competition, including how the Escalade vs. Tahoe compare, or to find out about our latest Cadillac Escalade lease specials. We look forward to helping you experience the best Cadillac has to offer!