What is the New 2020 Cadillac Escalade Price?

Many drivers from the Astoria area are praising the 2020 Cadillac Escalade as it's one of the most luxurious SUVs currently on the market. With the release of the 2020 model, many drivers are curious about the 2020 Cadillac Escalade price. So, how much does a Cadillac Escalade cost for the 2020 model? This luxury SUV has a starting price of $75,195 MSRP, which makes the Escalade just as competitive as it is refined. Before deciding on the new Cadillac SUV that's best for you, compare the Cadillac Escalade trims and prices with us below.
The Price of Cadillac Escalade Trims and Configurations
The new Escalade is a family-friendly SUV that many Great Neck drivers turn to for a stylish, high-tech model. When it comes to price, here is what you can expect to pay for each new Escalade:
Cadillac Escalade Price
2020 Cadillac Escalade (Base) – $75,195 MSRP
2020 Cadillac Escalade Luxury – $80,795 MSRP
2020 Cadillac Escalade Premium Luxury – $85,195 MSRP
2020 Cadillac Escalade Platinum – $92,295 MSRP
Cadillac Escalade ESV Price
2020 Cadillac Escalade ESV (Base) – $78,195 MSRP
2020 Cadillac Escalade Luxury ESV – $83,795 MSRP
2020 Cadillac Escalade Premium Luxury ESV – $88,195 MSRP
2020 Cadillac Escalade Platinum ESV – $97,295 MSRP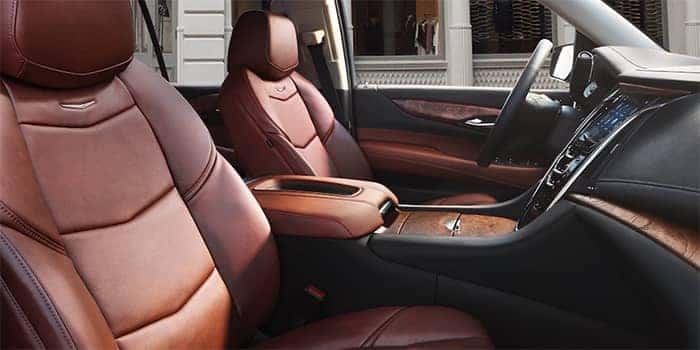 What Features Will I Receive for the Cadillac Escalade Price?
Cadillac Escalade (Base) – Standard features include heated first and second-row seats, ventilated front seats, a power-folding third-row, an 8-inch touchscreen, navigation, 360-degree parking camera, a hands-free power liftgate, and remote start.
Cadillac Escalade Luxury – Adds a forward collision warning with automatic emergency braking, blind spot monitoring, rear cross-traffic monitor, automatic high beams, and a sunroof.
Cadillac Escalade PremiumLuxury – Adds a rear seat entertainment system with a fold-down 9-inch screen, reverse automatic braking, adaptive cruise control, and more.
Cadillac Escalade Platinum – Adds a center-console cooler, 18-way power-adjustable front seats, front seat massage chairs, power step-up feature, expanded seatback-mounted rear entertainment system, and semi-aniline leather seating.
How Much Does a Cadillac Escalade Cost Used?
For drivers that want the luxury of the Cadillac Escalade at a more affordable price, a used Escalade is an option. Of course, we're not shocked that drivers are wondering about the price of a used Cadillac Escalade. The price, like with any used vehicle, will vary depending on the model year, optional upgrades, and conditions. With that said, you can still expect to get significant savings when you opt for a pre-owned Cadillac Escalade.
Even with the savings of a pre-owned, a new Cadillac Escalade is still worth the price. Especially since the 2020 Escalade belongs to the generation which followed 2015's major redesign. Because of that, you will see major similarities between new and used models if you decide to get an Escalade made within the last five years. The next redesign will not happen until the 2021 model year.
Schedule Your Test Drive at City Cadillac
If you're ready to get behind the wheel of the new Cadillac Escalade, find a new model in our inventory at City Cadillac. And because we want you to save even more on your new vehicle, we offer Escalade lease specials! Contact us today with any questions or get the process started today when you apply for financing online!